Bob Ferguson
Senior Vice President, Triangle Region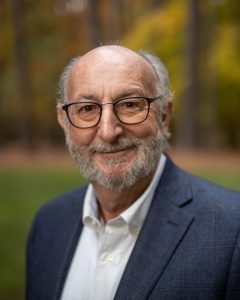 Bob is the Senior Vice President, Triangle Region for T. A. Loving Company. Bob oversees all the pursuit-, preconstruction-, and construction-phase activities for T. A. Loving projects located within Central North Carolina and the Triad.
Bob's construction experience spans over forty years—including the executive leadership of construction companies and complex projects ranging from $500k-$500M. He provides insightful, creative approaches and contracting methodologies crucial for client and project success.
Bob's projects of note include PNC Arena, NC State's Wendell Murphy Football Center and Carter-Finley Stadium, the UNC-CH Loudermilk Center for Excellence at Kenan Stadium, Cisco Systems' Corporate Headquarters, and numerous k-12 schools and Higher Education facilities. Bob is particularly proud of this accomplishment: he managed the design and construction of the twenty-six venues used to host the 1996 Summer Olympic Games in Atlanta.
Bob has served as a Board Member on numerous civic- and industry-related organizations such as AGC, ABC, PCEA, and the American Cancer Society. Bob is a native of Charlotte, North Carolina. Bob and his wife Sandy, reside in north Raleigh and their family includes three daughters and a son.