Chris Myers
Chris joi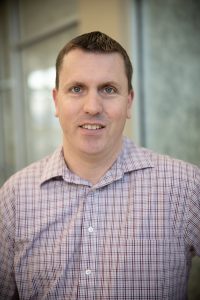 ned T.A. Loving in 2012 as a project manager. He began his career in the Water and Wastewater Construction industry in 2003.  Since then, he has joined the T.A. Loving Management Team and has expanded his experience to include bridge, pipeline and industrial construction. Chris is currently leading the utility division Design-Build efforts. He oversees Design-Build pursuits from the marketing RFQ stage to the completion of design and construction. Chris focuses on project success as well as the success of the entire team. He ensures that the client receives a product that provides them the quality, durability, value and performance they require. He is also not afraid to get his boots muddy as needed to ensure the clients are satisfied.
He completed his Associate DBIA Certification in 2016 with the Design Build Institute of America. As a DBIA member, he is committing himself and his team to deliver projects with the highest level of professionalism and ethics not only to the client but also the public and the industry utilizing best practices.
Chris earned his undergraduate in degree in business management from Wright State University in 2003; he went on to obtain his MBA with a concentration in Project Management from Wright State University in 2010.
He currently serves as a Board Member for the Habitat for Humanity of Goldsboro chapter. He is also an Eagle Scout and serves in a leadership capacity with the local scouting organization. He is also an active member of his local church.